The Arctic is a wonderful place. Full of gorgeous sunsets, dramatic snow-capped mountains, reindeers and whales, and last but not least, countless of things to do from snowmobiling to ice-fishing.
Believe or not though, living in and exploring the Arctic isn't always as breath-takingly gorgeous as Instagram and Pinterest might make us believe. Sometimes it can be really messy. Like basically every time there's a snowstorm (she says while the wind is howling through her apartment at 69° North).
Snowstorms can be simple - like when they're messing up your hair, smudging your glasses, disrupt an otherwise scenic view or lead to flight delays.
Or they can be dramatic - like that day when Simon and I got stuck on top of a mountain in a snowstorm.
It all happened during an Easter holiday in Swedish Lapland last year. We were staying in Simon's family cabin on the Arctic Circle. Somewhere hidden behind forests and lakes, 6 kilometres from the nearest village. A place that can only be reached by boat in summer and snowmobile in winter.
That reeks of adventure, doesn't it?!
Well, overall we had a glorious vacation: I learnt how to drive a snowmobile, went ice-fishing, learnt that outhouses really aren't that disgusting, and spent a lot of time reading - something I rarely ever have the time for.
So far so good. All until that day we decided to go for a snowmobile ride to the top of Mountain Riebnekaise. The weather was fine. It wasn't sunny but we had a good view and there was no fog or much wind around.
So we embarked on two snowmobiles - Simon and I on one and Simon's Dad driving ahead. First through the deep forests and past an old Sami hut (gamme), that Simon's forefathers have used for generations.
Then finally past the treeline and higher up the mountain. Carefully though as the snow was deep enough for me to sink in up to my knees. If there is that much snow and you drive up a mountain, you run the danger of getting too close to the edge and if you're unfortunate, drive off the mountain and fall a couple of hundred meters down.
Not quite how I imagine to exit the world of the living... Luckily Simon's dad knows the area well which is why he led us in the first place. So all good, we're driving higher and higher up the mountain and without the tree cover from the forest, it gets increasingly windier to full storm the higher we get.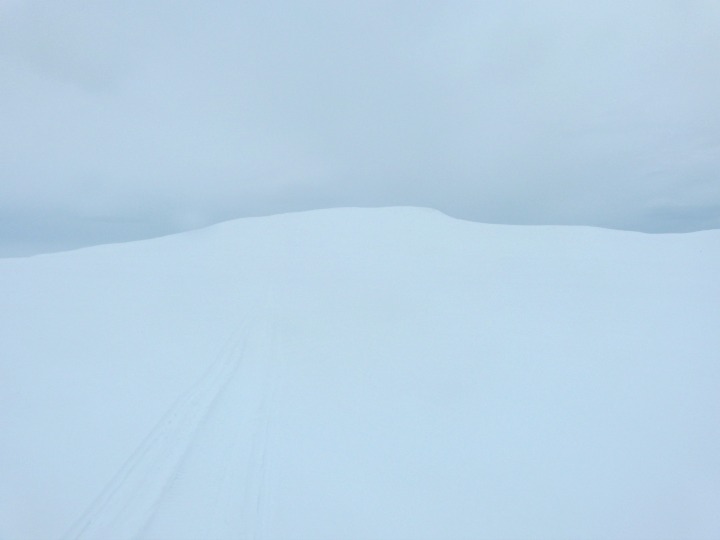 We pass the mountain top on the left side and are about to make the turn to drive up the back of Mt. Riebnekaise when our snowmobile suddenly dies.
Stranded between the edge of the mountain and its top, in full storm, in the midst of winter and worse - Simon's Dad didn't notice us stopping behind him and while he happily makes his way to the top (absolutely hardcore that man), we're left behind.
And when I say we, I mean a boyfriend who couldn't care less and a German who's never been up a mountain in winter before and who immediately panics and overreacts.
After all, they always say in the news that there's a high avalanche danger during storms and skiiers and snowmobilers are the no. 1 cause for deaths in avalanches...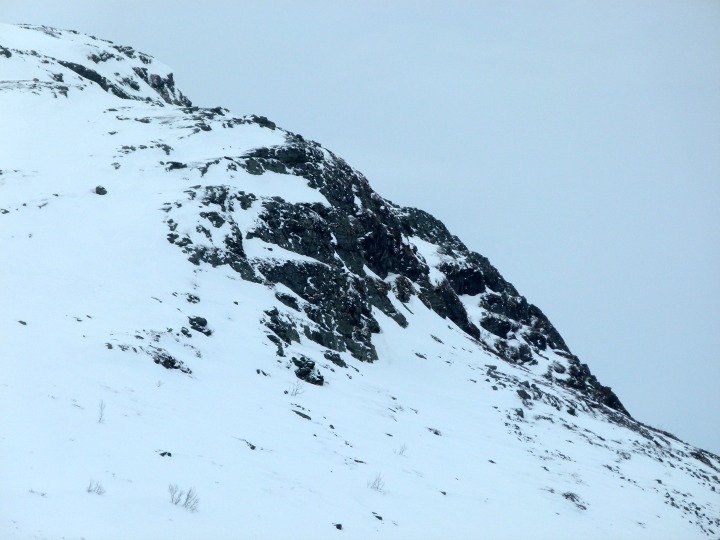 Needless to say, we made it and I'm still alive. We did have to wait for help for about half an hour but it was all way less dramatic than I made it out in my head.
We were far enough away from the edge of the mountain and there was no avalanche danger either as we were located on the flat left side of the mountain - as opposed to the steep and dangerous right side that Simon's dad was concerned about.
But if you can't see for more than 10 metres and can't distinguish ground and horizon from each other, it's allowed to be scared. Right?
In the end, Simon's dad made it back to us after having reached the top, saying it was even stormier there - I couldn't believe that was even possible at that point. He called someone from the family to pick us up (you wouldn't believe it but even though the area is so remote, the WHOLE family gathers there during Easter so it's actually quite crowded).
We switched snowmobiles and towed the broken one until we got back to the treeline and our snowmobile magically started working again.
I did wonder though if it was a sign that we shouldn't go to the top of the mountain or pure coincidence.
What do you think?
Leave a comment below!
(Don't forget to submit your email-address if you want to be notified of replies! It won't be shared with anyone!)
I'm linking up with ANGIE
,

EMMA

and

Eppie for the Travel Link-up!

Pin it for later!
FOLLOW ALONG:
WELCOME TO WANDERFUL WEDNESDAY!
My favourite of last week: Transylvania: In Photos (and a few words) by Amy and the Great World!
Consider yourself a wanderer?! Well then, this Blog Hop is for you!
Meet your hosts: Lauren of Lauren on Location, Van of Snow in Tromso, Isabel of The Sunny Side of This and Marcella of What a Wonderful World.
Here on Wanderful Wednesday we hope to promote an open and supportive community for like-minded bloggers- expats, travelers and all kinds of wanderers!
The linkup will take place every Wednesday at 8AM GMT.
Wanderful Wednesday Guidelines:
1. Link up a wanderful travel related post below! One per blogger per week please!
2. Spread the LOVE! Blog Hops are all about hopping around & getting to know others within the community! At the very least please try to comment on one other post before you go!
3. Let's get Social! Really liked a post you read? Don't be shy! Share your favorites on Social Media! You can use the hashtag: #wanderfulwednesday
4. Don't forget to grab the button or link back to your wanderful hosts! Help us spread the word and let's get others involved!
Now it's your turn. Link up your wanderful post below!