Read on for 9 non-crowded places to visit when making your way to Northern Norway in summer!

Northern Norway is probably already on your bucket list, however, while most people flock to Norway's north in winter to see the Northern Lights, the region is a lot less crowded during summertime. Apart from the Lofoten Islands, that is. In the same way as everyone heads to Tromsø to see the Northern Lights in winter, tourism in Lofoten booms during the summer.
Northern Norway has a lot more to offer than just the Aurora and Lofoten, though!
If you haven't considered visiting Northern Norway in summer yet, these 9 gorgeous places might inspire you to leave the beaten track and go somewhere other than Lofoten on your summer road trip.
THIS ARTICLE CONTAINS AFFILIATE LINKS
Pasvik
Never heard of Pasvik before? Granted, this nature reserve at the border to Russia couldn't possibly be more remote. In order to get here, you need to fly into Kirkenes (or even better: go by Hurtigruten cruise) and rent a car.
The hour-long journey to get there is absolutely worth it, though, as Pasvik Nature Reserve is a heaven for bird-watchers and anyone who fancies a holiday off the grid. If you can live without Instagram for a couple of days, Pasvik will reward you with silence, views for days and possibly even the chance to spot a bear in the distance!
Interested? Learn more about Pasvik Nature Reserve here.
Finnmarksvidda
Another place in Northern Norway that isn't exactly touristy just yet is the inland region of Finnmark - Norway's northernmost region. Home to the Sami - Norway's indigenous people - the hills and plains of inland Finnmark offer delicious cloudberries, plenty of reindeer sightings and the chance to learn more about Sami culture.
Head to Kautokeino and stay at either Thon Hotel Kautokeino or a traditional Sami telt - the lavvo. Have some reindeer meat for dinner and cloudberry cream for dessert. Listen to traditional Sami throat-singing. Enjoy 24 hours of daylight thanks to the Midnight Sun. Stop by Juhls' Silvergallery for authentic handmade souvenirs. Go fishing.
And most importantly: Enjoy the wilderness of the Arctic tundra far from any crowds and stress.
Manndalen
Nestled in the mountains of the Lyngen Alps, Manndalen is an absolutely hidden gem of the greater Tromsø region. Whether you're interested in fishing, hiking or culture - Manndalen has it all! Stay at Northern Norway's traditional fishermen's cabins at the harbour of Manndalen and make sure to visit Riddu Riddu - an indigenous music and culture festival that takes place every summer.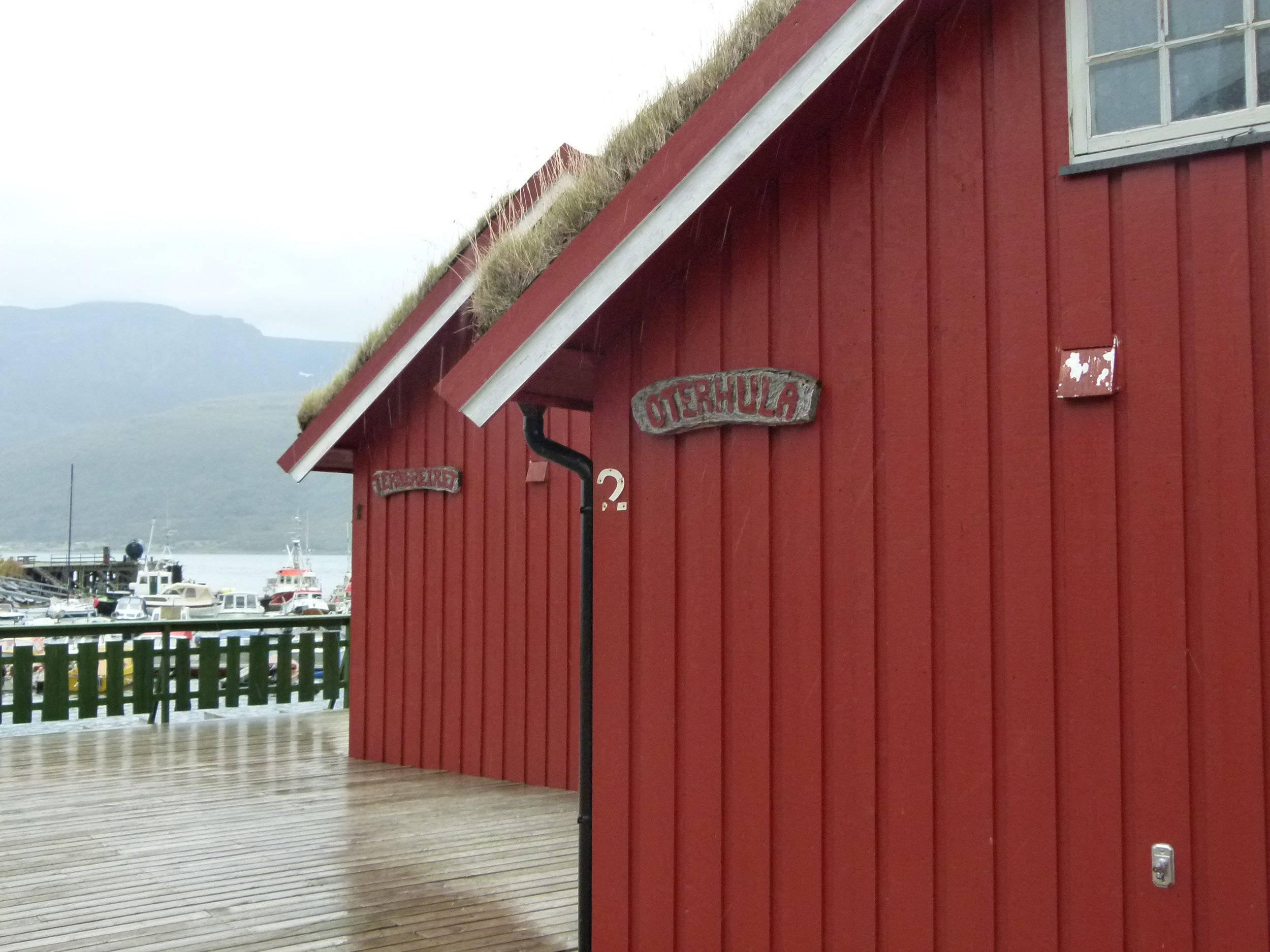 A hike in Manndalen valley should also be on your to-do list - but careful: Nearby mountain Gamanjunni is one of Norway's most dangerous as it's likely to collapse soon, so… maybe don't venture too far out into the valley and stick to visiting the local farm shops to buy some handmade goat's cheese instead.
Blåvatnet
Another gem of the Lyngen Alps that, granted, Instagram may or may not soon ruin for us all, is Blåvatnet. Understandably so, the deep blue colour of the glacier lake looks very unreal and the Lyngen Alps are super photogenic anyway. What makes the lake even better is the fact that it's situated at only roughly 200 metres above sea level, making the hike up there a relatively easy endeavour.
You could stay in Tromsø and head to Lyngen first thing in the morning or, even better, stay in nearby Svensby, Lyngseidet or Koppangen for even more scenic and peaceful accommodation - for instance at Svensby Tursenter, Lyngseidet Gjestegård or, my personal favourite, Koppangen Brygger. Make sure to depart for the hike early in the morning anyway for the best chance of having the lake all to yourself - especially if you're planning to take a dip.
Although, that would probably be a very chilly one that won't last long…
Grøtfjord
Grøtfjord is super popular among Tromsø locals, especially on those (admittedly rare) warm summer days when all you want to do is take a dip in the ocean. Situated on the island Kvaløya, this little village at the entrance of a fjord offers a stunning sandy beach that's as great for bathing as it is to just take in the magnificent Norwegian nature and scenery.
The beach and village are only a 50-minute drive from Tromsø, during which you're very likely to see reindeer crossing the street. On the way, you should also stop in Ersfjord - another charming fjord village with a great cafe in an old fishing pier called Bryggejentene.
Hella
Another fascinating gem on the island of Kvaløya are the ancient rock carvings at Skavberget near Hella. You probably wouldn't even notice them if you were just driving past on your way from Tromsø to Sommarøy, but there they are - right next to the road and just a short way from the little open air museum, cafe and popular fishing spot at Hella.
Whether you're interested in colourful wooden houses, Norwegian pastry and fish or just a scenic lookout point by the fjord - Hella won't disappoint! Make sure to explore the little cave above the western end of Hella and time your visit to see the Hurtigruten cruise pass by at around 2 pm.
Sjunkhatten National Park
Just a 1 to 1 1/2 hour's drive north-east of Bodø, you can find Sjunkhatten National Park - a 400 km² large area full of exciting (and fairly easy) hiking trails. In fact, the national park is also known as the "children's national park" as most trails are relatively accessible - though there are more challenging options as well.
The area is perfect if you're looking to camp in the wild, which is possible in Norway thanks to the so-called "Everyman Right". As long as you set up your tent away from any houses and cabins and leave the place exactly as you found it, you'll get to experience Northern Norway's bright summer nights, as well as plenty of waterfalls/rivers, lush forests and steep mountaintops on your hike.
Fauske
Personally, I wouldn't exactly call the town of Fauske itself a hidden gem - or a gem at all. The town is rather dull and industrial in nature, BUT it has a gorgeous lake to offer called Fauskeeidet. On a summer evening, especially those rather rare ones with plenty of sunshine and warmth, this little lake is absolutely perfect for a quick dip followed by a barbecue at the shore.
I only discovered it myself thanks to my boyfriend who grew up nearby and when we visited, I was pretty surprised that there weren't more people around. In fact, we pretty much would have had the lake all to ourselves had it not been for that moose that decided to go for an evening stroll…
Anyway, if you decide to stop by Fauske, make sure to also explore nearby Straumen. This little mountain town offers a whooshing river in its centre, as well as stunning mountain views already from the road. Imagine what hiking in those forests must be like… You can stay at Strømhaug Camping right by the river or in Fauske itself at Fauske Camping.
Røst
I know, I know - I did say that Lofoten is super crowded in the summer but that just goes for the 5 main islands of the archipelago. If you're going to visit Northern Norway in summer and you're planning to go somewhere few people ever venture, you might as well head to Røst - the most remote of all the Lofoten Islands.
Situated 100 km from Bodø in the Norwegian Sea, Røst isn't just 1 island but actually its own mini-archipelago with 365 tiny islands! The area is a heaven for bird watchers as puffins come here to breed. And if the chance of spotting puffins isn't enough to excite you, just think about the splendid views and the feeling of being on a remote island out at sea alone. It can't get more off the grid than that!
You can reach Røst by ferry and plane from Bodø and can stay at charming Røst Bryggehotell right next to the ocean.

ENJOYED THIS ARTICLE?
DON'T FORGET TO SHARE IT AND MAKE SURE TO FOLLOW ALONG: